In accordance with the guidelines of the Governing Board, the General Director is responsible for the overall management and organization of the University's services, resources and technical and administrative staff. 
Image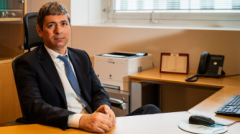 Dr. Nicoletti graduated with a Law degree from the "La Sapienza" University of Rome, with a thesis in Criminal Law. Prior to joining UNIMIB, he was General Manager at the University of Sassari from 2019/2020 and at the University for Foreigners of Perugia from 2012 to 2018.
 
Dr. Nicoletti gained an extensive managerial experience in the higher education sector at the Free University "San Pio V", where in 2006, at the age of 36 he became the administrative director.  From 2014 to September 2020 he has been the President of the CoDAU (Conference of General Directors of University Administrations), where he currently holds the position of Past President. Since 2015 he has been a member of the Eni Enrico Mattei Foundation's Board of Directors.