The University of Milano-Bicocca is a public university which was established in Milan in1998. The university is situated across two campuses comprising 25 modern buildings split between the city campus in Bicocca and the biomedical campus in Monza, a town close to Milan, for a total of 290,000m2.
The University of Milano-Bicocca is a multi-discipline university training the professionals of tomorrow in a number of different fields: economics/statistics, law, science, medicine, sociology, psychology and pedagogy. 
The university's educational offering is split into 70 study courses (36 Bachelor's Degrees and single-cycle Master's Degrees and 34 Master's Degrees) across seven disciplines: economics/statistics, law, medicine, psychology, sociology, science and education.  There are also 21 PhD courses, co-ordinated by a single Doctoral School, 37 Specialisation Schools, first/second level postgraduate programmes and summer/winter English-language schools.
The university's research activities are split across 14 departments, three centres of excellence and 46 university and inter-university research centres, encompassing nearly 900 lecturers and researches and around 1,500 young graduates (PhD students, graduate students and research associates).
The average age of lecturers at the University of Milano-Bicocca is lower than the average at Italian universities, while young researchers account for the biggest group in our teaching staff.  The University had  32,841 students enrolled as of the 2016/17 academic year. Foreign students account for 5.8% of this number, up on the Italian average of 4.23%.
Highlight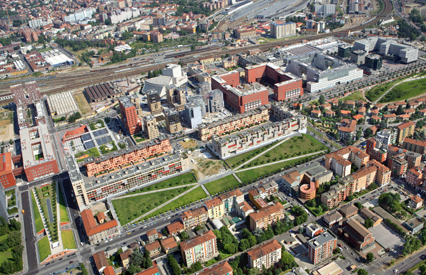 The University of Milano-Bicocca in the rankings
INTERNATIONAL RANKINGS
According to the QS World University Rankings 2018, the annual ranking of the top universities in the world published by Quacquarelli Symonds (QS), Milano-Bicocca is ranked in the 651-700 category. It is ranked 16th among Italian universities. In the 2018 edition of the QS Top 50 Under 50 ranking, our university was ranked as one of the top 150 universities in the world founded since 1967.
In the general Times Higher Education (THE) World University Rankings 2017, Milano-Bicocca was ranked in the 351-400 category and came 12th among Italian universities. In the Young University Ranking 2017, which is reserved for universities set up in the last 50 years, Milano-Bicocca was ranked 55th in the world.
ITALIAN RANKINGS
According to the National Agency for the Assessment of Universities and Research's (ANVUR) Report on the Assessment of Research Quality 2011-14, the university was ranked ninth for research findings, making it the top university in North-west Italy. 
The 2017/18 edition of the CENSIS Guide to Italian Universities ranked Milano-Bicocca 10th in the list of the "big universities" (between 20,000 and 40,000 students) and third for Communication and Digital Services. 
In Il Sole 24 Ore's 2016 ranking, Milano-Bicocca was ranked fifth out of the 61 state universities in Italy.