Giovanna Iannantuoni - Rector since 2019
Image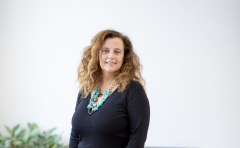 Giovanna Iannantuoni is a full professor of Political Economy.
After studying Economic and Social Sciences at the Bocconi University in Milan, she graduated with a PhD in Economics from the University of Louvain (2001). 
She spent several years abroad at some of the most prestigious Economics departments in the world, including Rochester University, Carlos III de Madrid and the University of Cambridge.
Her research interests include game theory, political economy decisions and the micro-economy and her work has been published in the leading economics journals. She has been awarded numerous projects in Italy and around the world.
President of the University of Milano-Bicocca's Doctoral School from 2015 to 2019.
Publications  
De Sinopoli, F., Iannantuoni, G., Manzoni, E., & Pimienta, C. (2019). Proportional Representation with Uncertainty. MATHEMATICAL SOCIAL SCIENCES, 99, 18-23. 
Baghdasaryan, V., Iannantuoni, G., & Maggian, V. (2018). Electoral fraud and voter turnout: An experimental study. EUROPEAN JOURNAL OF POLITICAL ECONOMY, 1-17.
Cella, M., Iannantuoni, G., & Manzoni, E. (2017). Do the Right Thing: Incentives for Policy Selection in Presidential and Parliamentary Systems. ECONOMICA [ECONOMICS], 84(335), 430-453. 
Bettarelli, L., Iannantuoni, G., Manzoni, E., & Rossi, F. (2017). Voters' preferences and electoral systems: the EuroVotePlus experiment in Italy. ECONOMIA POLITICA [POLITICAL ECONOMY], 34(1), 159-177. 
De SInopoli, F., Iannantuoni, G., & Pimienta, G. (2015). On stable outcomes of approval, plurality, and negative plurality games. SOCIAL CHOICE AND WELFARE, 44(4), 889-909.