Image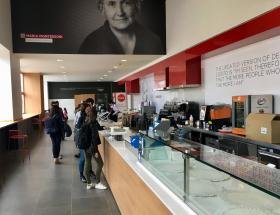 There are lots of places on the Bicocca Campus to stop for a coffee, have a meal or grab a quick snack. Our refreshment areas are new, spacious and air-conditioned.
You can also find vending machines selling cold and hot drinks and snacks in the following buildings: U1, U2, U4, U5, U6, U7, U8, U9, U14, U16, U18, U24, U26, U28, U42, BICOCCA STADIUM (formerly PRO PATRIA) and U92.
We've negotiated special prices with some of the businesses located near Building U16.
There's also a hot food vending machine in Building U8 - Monza.
For the new University restaurant service, starting from 2 November 2022, read the News in italian at the following link: Servizi di ristorazione | Università degli Studi di Milano-Bicocca (unimib.it) 
Building U6
Canteen
Location: Building U6, First Floor
Opening hours: Monday to Friday, 11:45 to 15:00
Operator: Compass Group Italia s.p.a.
Bar
Location: Building U6, Floor: 1
Opening hours: Monday to Friday, 08:00 to 17:00
Operator: Compass Group Italia s.p.a
Bar
Location: Building U6, Ground Floor
Opening hours: Monday to Friday, 08:00 to 17:00
Operator: Compass Group Italia s.p.a
Building U7
Bar
Location: Building U7, First Floor
Opening hours: Monday to Friday, 08:00 to 17:00
Operator: Compass Group Italia s.p.a
Canteen
Location: Building U7, First Floor
Opening hours: Monday to Friday, 11:45 to 15:00 
Operator: Compass Group Italia s.p.a
Building U3
Bar
Location: Building U3, First Floor
Opening hours: Monday to Friday, 08:00 to 17:00
Operator: Compass Group Italia s.p.a
Building U12
Canteen 
Location: Building U12, First Floor
Opening hours: Monday to Friday, 11:45 to 15:00 and 19:00 to 21:00
Operator: Compass Group Italia s.p.a
Bar
Location: Building U12, Ground Floor
Opening hours: Monday to Friday, 08:00 to 17:00
Operator: Compass Group Italia s.p.a
Building U16
Canteen
Location: Building U16, Via Thomas Mann 8
Opening hours: Monday to Friday, 11:45 to 15:00
Operator: Compass Group Italia s.p.a