Image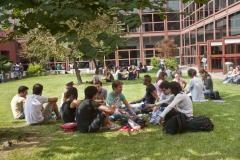 The campus is connected to the main transport lines and is served by internal transport.
There is a nursery, which is directly coordinated by the Department of Education Sciences and is also open to children of employees and students, as well as spaces and support services for the disabled. Students living away from home (13.7% of enrolled students come from another region) can stay in two large halls of residence with furnished apartments, study areas, kitchens and leisure areas.
The residential development plan provides for an increase in accommodation places from 630 to to 1,103 by 2018. Sports facilities include a fitness room, a gym/sports hall with regulation basketball and volleyball courts.
Thanks to agreements with major sports clubs in the neighbourhood such as the historic "Pro Patria" centre, tennis courts, athletics tracks and grass pitches are also available.
The campus is made up of 25 modern buildings distributed across a total area of 290,000 sq m, including the city campus and the Biomedical centre in Monza, a few kilometres from Milan.
Students have access to 207 fully connected and equipped teaching rooms, 20,000 classroom seats, 300 of which are for the disabled, almost 2,000 computer workstations, full WiFi coverage, dozens of equipped study areas, libraries, halls of residence, canteens and internal transport services (free shuttle and a fleet of bicycles so that they can travel between buildings without polluting).
Further work is planned for the development of the campus with the aim of increasing its overall capacity and the number of classrooms.
by

Redazione Centrale

, Last update on 2020-03-05