Thursday, 19 March 2020
Coronavirus: Measures, Initiatives and Services for the University of Milano - Bicocca community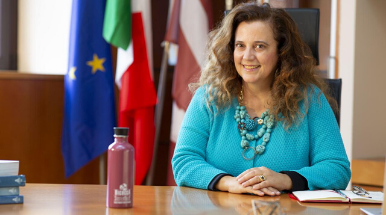 Message from the Rector
March 30th 2020
Dear all,
I'm writing to you with my regular weekly update on the activities and initiatives the university is undertaking during the coronavirus emergency.
The rapid spread of COVID-19 has forced us to implement social distancing in order to safeguard the most vulnerable and tackle the crisis. It is a situation that requires us to act with a sense of ethics, responsibility and solidarity.
Being a community is about working together for a common objective. Yet it is also about putting people first and staying at home, without interrupting our work, teaching activities, research projects and community services.
As you know, as soon as the emergency began we encouraged remote working as a priority. We currently have 92% of university staff working from home, in accordance with the Prime Ministerial Decree and the Lombardy Regional Decree of 22 March.
Teaching activities are continuing via e-learning  and we are finalising procedures for written exams to be taken online.
Some events and initiatives are resuming, where these can be run virtually. Indeed, during such a difficult period for our society, the university has opened its doors – albeit only in the virtual sense – to the general public with the "Bicocca Citizenship" initiative [Bicocca per la cittadinanza, available in Italian], which offers services, opportunities, meetings and opportunities for dialogue designed to draw on our varied body of expertise to support members of the public.
Our support for the San Gerardo Hospital in Monza continues through the "STOP CORONAVIRUS: help us stop it!" fundraiser, while we're also very active through our research activities, which – at this time of crisis – are making a key scientific contribution to improving our understanding of the phenomenon and helping us tackle the spread of the virus in the most suitable and effective manner.
When the emergency began, we set up a crisis unit which continues to work in close collaboration with other institutions to ensure coordination where necessary and to implement operational instructions.
The section of the website dedicated to coronavirus is constantly being updated based on the most recent measures taken at national, regional and university level. It also sets out the activities the Bicocca community is implementing to help handle the crisis. 
Please take the time to read it.
Let's stay together by staying at home.
Kind regards,
The Rector
Giovanna Iannantuoni
Milano-Bicocca: lessons, exams and graduation sessions start online
We are facing an exceptional situation with the COVID-19 emergency which requires adequate responses. The University guarantees remote lessons, exams and degree sessions to all students. This is an important change, but the University is technologically equipped with classrooms and high-tech IT services.
 
► The University organizes remote teaching for all 70 degree courses on online digital platforms. The student can access the materials, video lessons, streaming or digital content, through the specific course page normally used on the University's e-learning platform. The teachers will record the lessons in order to make them available online for those who are unable to attend the University even when the frontal teaching starts again.
 
► Furthermore, with the Rectoral Decree of 13th March 2020, the possibility of taking exams and discussing the thesis at a distance was made available, not only for students of study courses, but also for Phd's, professional masters, specialisation schools. Everything will take place in public form: through virtual access, relatives and friends will be able to attend the discussions of the degree theses.
► Q&A Live with Vice Rector for Education Professor Maurizio Casiraghi about online lessons and graduation exams  
Support for Unimib and International students during the coronavirus (COVID-19) outbreak
Due to the current coronavirus (COVID-19) outbreak, there have been some changes to our welcome desk and other student services until further notice.
You still have access to plenty of support during this period. Here's a summary of what support is available for different issues.
Mental Health and Well-being 
We understand this can be a period of immense stress, anxiety and uncertainly. It is important to keep yourself up-to-date with information and find a balance to ensure good mental health, wellbeing and reduce stress. 
If you are feeling disturbed in any way, please send us an email to fix a telephonic appointment at counselling.psicologico@unimib.it mentioning your Name, Surname, Matricola and the name of the course you are enrolled in.
We'll be happy to offer you counselling support. 
Health Care – If you think you may have coronavirus (COVID-19)
If you feel unwell and think that you may have the virus or have come into contact with somebody who has, please follow the most up up-to-date Italian Ministry of Health advice on what steps to take. This includes information on symptoms, precautionary measures and how to seek help. 
Those who experience flu symptoms or respiratory problems should not go to the Emergency Room, but should call the regional toll-free number 800.89.45.45, where they will assess each individual situation and explain what to do. For general information, call 1500, a public utility number activated by the Italian Ministry of Health.
It's very important that we all adhere to social distancing information to help prevent the spread of infection. To help save lives, the Italy is currently in a state of lockdown, with restrictions on movement. 
by Redazione Centrale, last updated on 01/04/2020