The name
The Ministerial Decree that founded the university on 10 June 1998 set out the name "Seconda Università Statale degli Studi di Milano".
Later, the Steering Committee asked Professors Brondoni and De Lillo to propose a number of alternative names for the university. The names suggested were then circulated to the entire teaching, technical and administrative staff of the university by way of a questionnaire. The name chosen through the survey was "Università degli Studi di Milano - Bicocca".
The decision was ratified by Ministerial Decree No.92 of 12 March 1999, confirmed the name "UNIVERSITA' DEGLI STUDI DI MILANO - BICOCCA".
As regards the choice of logo, the university examined a number of suggestions presented by Pasquale Tucci, a Professor of History of Physics, to Professor Marcello Fontanesi, the Head of the Faculty of Physical and Natural Mathematical Sciences, before Fontanesi was appointed Chairman of the Steering Committee.
The logo needed to evoke a sense of change within continuity while at the same time being simpler and more innovative than traditional academic symbolism.
The logo
Image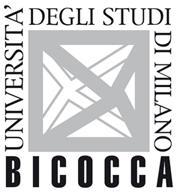 The university wanted to convey the concept of knowledge in Milan via a symbol that was recognisable, undisputed and international - qualities shared by both knowledge and Milan.
This was the thinking behind the choice of Leonardo, the genius who lived and worked in Milan and encapsulates science, art and technical knowledge.
Taken from De Divina Proportione, a book on mathematics and geometry released in 1498 by Leonardo and the mathematician Luca Pacioli, the octahedron was chosen to represent the multitude of disciplines that coexist at Bicocca.
The intermediary lines were removed from Leonardo's design, which was inserted within a grid to showcase the geometric shape. A simplified octahedron appears again in the background, breaking up the static nature of the design and conveying a sense of change.
The design is surrounded by text spelling out the name of the university. When shown in a size larger than 30 centimetres (posters, flyers, flags), the text "AUDENTES FORTUNA IUVAT" is added to the bottom of the logo.
by

Redazione Centrale

, Last update on 2020-03-04