Friday, 20 March 2020
Music as a vision of the world - Prof. Emanuele Ferrari in concert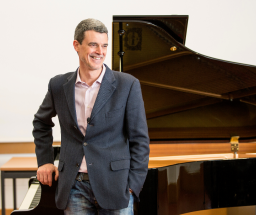 Music plays a huge role within everyday society, from the advertising campaigns of corporate businesses, to live performances.  
The understanding of the power music holds is vastly recognised and utilised to cause affect to an audience.
During these particular days we have the opportunity to improve our world view.
Music is an autonomous language and lets us rediscover our connection to humanity. 
We are glad to share two concert-lecture by Emanuele Ferrari, Tenured Assistant Professor of Musicology and Music History:
the first as part of the "Leverhulme-funded network on Italian opera from a transnational perspective" hosted by Brown University RI (USA)
and the second held at the Alcatraz in Milan on 4 July 2019 within the IALE 2019 Congress (Internetional Association for Landscape Ecology). 
by Redazione Centrale, last updated on 20/03/2020