Tuesday 22 November 2022
Guest speaker: architect and urban planner Carlo Ratti, with the lectio magistralis "Senseable cities". In video link, the Minister for Universities and Research, Anna Maria Bernini
Image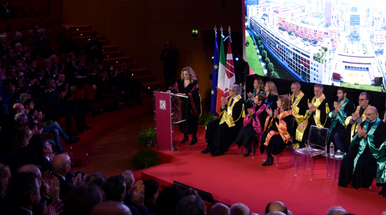 This morning, the Aula Magna of Milano-Bicocca hosted the inauguration ceremony for the 2022/2023 academic year, the 25th of the University. The event was held in the presence of local authorities and the academic community; Anna Maria Bernini, Minister of Universities and Research, spoke via video. 
In her opening speech, Rector Giovanna Iannantuoni presented the plan for the energy requalification of the University's building heritage, which aims to exploit geothermal energy from underground, in combination with photovoltaic energy, to make Milano-Bicocca a zero-emission campus. 
The ceremony continued with a lectio magistralis entitled Senseable cities by Professor Carlo Ratti, director of the Senseable City Lab at the Massachusetts Institute of Technology (MIT) in Boston.
This was followed by speeches by Luca Motto, President of the University's Student Council, and Roberto Manera, representative of the technical and administrative staff in the Academic Senate.
a cura di Redazione Centrale, ultimo aggiornamento il 23/11/2022