Wednesday 29 June 2022
The Memorandum of Understanding (MoU) that sees the Milanese university alongside the Maldivian government for the protection and sustainable development of the archipelago of coral atolls was signed yesterday during the Ocean Conference of Lisbon
Image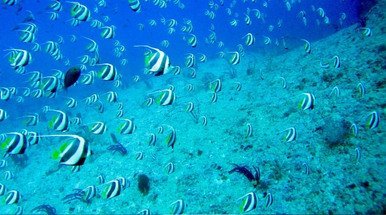 Twelve miles of marine resources, from the coast to the coral reef, and eight kilometers of vertical biodiversity, from the depths of the ocean to the air column populated by birds. With the "Vertical Ocean" project, the University of Milan-Bicocca and the Government of the Maldives revolutionize the concept of protected area, and forge an alliance for the protection of the archipelago's ecosystem.
The MoU between the University of Milan-Bicocca and the Ministry of Environment, Climate Change and Technology of the Republic of Maldives was signed yesterday during the Ocean Conference in Lisbon organized by the United Nations. The purpose of the agreement is the protection and sustainable development of the marine environment in the heart of the Indian Ocean.
Thanks to the MoU, over the next three years a team of over 20 scientists from the Bicocca University will be involved in studying the habitats of the atolls' 1192 coral islands.
The aim is to develop a scientific method to preserve Maldivian marine and coastal areas, thus identifying those most in need of protection. The Bicocca team will be able to count on the work of the Maldivian Government, which will provide its support in mapping the marine areas to be protected as well as the existing ones, while coordinating programs and initiatives to raise public awareness in relation to the protected areas.
Surveys will be performed by representatives of both parties involved in the MoU. This strong collaborative effort between the Bicocca University and the government of Maldives, will foster the capacity of the Maldivian government, as well as that of the stakeholders, to manage the collected data and to implement the resulting decisions.
a cura di Redazione Centrale, ultimo aggiornamento il 29/06/2022