Friday 12 June 2020
Starting in September 2020, a group of suppliers from the University of Surrey and University of Milano – Bicocca, in collaboration with SAGA Space Architects, will investigate the psychological impacts of social isolation in a lunar environment
Image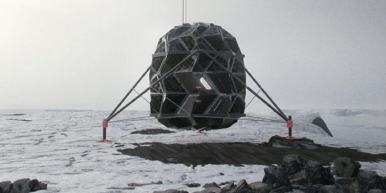 The hermetic pod created by SAGA Space Architects where S.Aristotelis and K.J.Sørensen will live for 91 days
Photo Credits: SAGA Space Architects
Milan, June 12th 2020
Researchers at the University of Surrey and the University of Milano-Bicocca, have partnered with SAGA Space Architects, to investigate the psychological impacts of social isolation in harsh environments, like the Moon.
This research forms part of the LUNARK project which looks to explore how humans could survive on the Moon and have successful habitats there in the future.
Sebastian Aristotelis and Karl-Johan Sørensen, of SAGA Space Architects, will live inside a pod, designed by themselves, for 91 days, in Northern Greenland, a place that reflects the difficult lunar environment, including its freezing temperatures. The pod is hermetic, portable, foldable and self-sufficient and has been designed to leave no trace in the environment.
The Research Project Team composed of Patrice Rusconi (Professor of Psychology at the University of Surrey), Konstantin Chterev (University of Surrey alumnus and Space Psychology Lead at SAGA Space Architects) and Paolo Riva (Associate professor at the Department of Psychology at the University of Milan-Bicocca), will study the reactions and adaptation to social isolation of Sebastian and Karl-Johan.
a cura di Redazione Centrale, ultimo aggiornamento il 16/06/2020