Tuesday, 26 May 2020
The crystals which transform light into coherent molecular motion - New research published in Journal of the American Chemical Society
Research group led by Prof. Angiolina Comotti, Full Professor of Industrial Chemistry, Department of Materials Science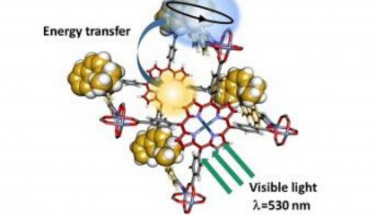 What can we achieve by combining a photosensitizing molecule in a crystal that captures green light and a molecular motor? An artificial leaf that captures the light, transforms it into energy that powers the motor in a unidirectional rotary motion.
This is the result of the study conducted by the research group led by Prof. Angiolina Comotti, professor of Industrial Chemistry of the Department of Materials Science of the University of Milan - Bicocca, and by the research group of Prof. Ben Feringa from University of Groningen, Nobel laureate in 2016 for the discovery of molecular machines.
Thanks to the international collaboration of the two teams, it was possible to develop an innovative approach that allows you to effectively exploit the common visible light to activate the molecular engine, thanks to the intermolecular sensitization by transferring energy from a second molecule (chromophore). 
by Redazione Centrale, last updated on 26/05/2020