Image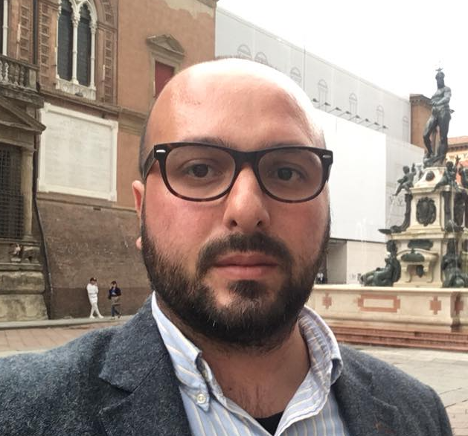 Academic disciplines
Principi di ingegneria chimica (ING-IND/24)
Biography
Carlo Santoro
got his B.S. (2006) and M.S. (2008) in Environmental Engineering at the Politecnico di Milano (Italy) working on transport phenomena in Direct Methanol Fuel Cells. He earned in 2013 his PhD in Environmental Engineering at the University of Connecticut (USA) working on novel materials for Microbial Fuel Cells. After his PhD, in 2013, he moved as Post Doc to the University of New Mexico (USA) in the Department of Chemical and Nuclear Engineering working on: i) bacteria attachment of different surfaces and biofilm formation; ii) enzymes for the reduction of oxygen and for biosensing; iii) synthesis of carbonaceous materials as support for catalysis. In 2014, he moved as Post Doc to the Nanyang Technological University (Singapore) and he developed a biosensor capable of detecting VOCs. In 2015, he moved back as Post Doc to the University of New Mexico (USA) at the Department of Chemical and Biological Engineering where he did work on platinum-free catalysts for oxygen reduction reaction (ORR) and hydrogen evolution reaction (HER) along the entire pH spectra and integration of supercapacitors and bioelectrochemical systems. In 2016, he was promoted as Research Assistant Professor. In 2017, he became Associate Professor at University of the West of England Bristol (UK). In 2020, he joined the Department of Chemical Engineering and Analytical Science as Lecturer at the University of Manchester in 2020 where he was a Lecturer. In 2021, he joined the Department of Materials Science at the University of Milano-Bicocca as Tenure Track Assistant Professor. He has been PI of a project "The development of air-breathing cathodes for BioElectrochemical Sanitation Technology (BEST) systems" sponsored by the J. Craig Venter Institute. He has been co-PI of: i) "BioElectrochemical Treatment System (BETS) to remove contaminants of emerging concern" sponsored by the USAMRMC (2015-2017), ii) "Efficient Microbial Bio-electrochemical Systems" sponsored by the Bill & Melinda Gate (2015-2017), iii)"Biofilm evolution in microbial fuel cells fed Yeo Valley wastewater" sponsored by the National Biofilm Innovation Center. He is currently PI of a project sponsored by Program for young researchers "Rita Levi Montalcini" Italian Ministry of University and Research (MIUR): "Pyrolysis processes for valorizing waste biomass and plastic through transformation into platinum-free catalysts for oxygen reduction and hydrogen evolution". He is author of 108 peer-reviewed manuscripts (H-index=45, Scholar) and he presented over 100 contributions oral and poster presentations. He is currently serving as Vice-Chair of Division 2 for the International Society of Electrochemistry (ISE) (terms 2021-2023). His work will be dedicated to electrocatalysis and bioelectrocatalysis for various electrochemical and bioelectrochemical reactions related to electrochemical conversion and storage technologies. Please visit the website for update.
Research projects
Testing catalizzatori ed ottimizzazione dei metodi di deposizione per la preparazione di elettrodi
Grantors:
ENEA - AGENZIA NAZIONALE PER LE NUOVE TECNOLOGIE, L'ENERGIA E LO SVILUPPO ECONOMICO SOSTENIBILE
Transformation of plastic waste in Electrocatalysts, Supported by exhausted gases recovery Layout, TESLA
Grantors:
FONDAZIONE CARIPLO
Development of Ultra-active platinum-free electrocatalysts for water electrolysis: Breaking the glass ceiling and fulfilling the potential of alkaline water electrolysis and AEMFCs.
Grantors:
MINISTERO DEGLI AFFARI ESTERI E DELLA COOPERAZIONE INTERNAZIONALE - Segreteria Generale
Processi di pirolisi per la valorizzazione di biomassa e plastica di rifiuto attraverso la trasformazione in catalizzatori senza platino per la riduzione di ossigeno e l'evoluzione di idrogeno
Call:
Programma giovani ricercatori "Rita Levi Montalcini" 2018
Grantors:
MINISTERO DELL'UNIVERSITA' E DELLA RICERCA (MUR)